О породе сибирских / невских маскарадных кошек
Do you enjoy grooming cats as much as i do?
Washing and bathingof Neva Masquerade and Siberian cats
It is widely thought that Siberian (Neva Masquerade) cats are fully capable of taking care of themselves. However, we should remember that our Siberian (Neva Masquerade) cats currently don't live in the taiga, don't feed on mice, and don't fight for their lives like other small predators. The grooming process takes place with wild animals naturally, no matter if they are caught by rain or enjoy playing in a snowdrift. But, we are dealing with domesticated cats, and even the most socialized Siberian (Neva Masquerade) cats have no chance to maintain natural care by themselves. Owners of Siberian cats know the look of their animals returning from a walk, whether they walk by themselves or under supervision. Most of them stay at home and do not have the happiness of reaching out to nature or being part of it.
It is impossible to describe all the nuances of grooming a cat before a cat show. But I will do my best to cut it short and give a brief introduction into grooming for our website visitors. The choice of cosmetics for cats is huge. I have been using mostly All Systems brand (USA) for several years. Actually, different manufacturers have similar product lines, but my preferences are already there. However, I continue to use GOOP degreaser(USA) because my favorite manufacturer does not have such a product. Also, there are many other useful and convenient products for nurturing the beauty of your Siberian cat.
Ergo,
it should be natural and easy for you that a cat needs your help on a daily basis. Inspecting eyes, ears and nose of your pet should transform into a habit. Let me tell you a secret: I have seen many cats at cat shows presented to the jury that extremely needed grooming procedures. To tell nothing about the fur and unsown claws…Some cats that we observed were rather untidy. Their state was often unsanitary. Do you think there is a chance for such candidates to win?
They say it's enough to brush a Siberian (Neva Masquerade) cat once a week. I would like to ask you: do you brush your hair once a week? Moreover, it mean additional ten minutes of direct communication with your pet. It should develop into a pleasant daily habit starting from early years of your kitten. Then, subsequently, it will not come as a surprise to you that you cat does not want to brush or remove the mats. As for the choice of combs and slicker brushes, you should pick your favorites based on your personal experience. You can buy several types at once, and let your pet choose. I personally use only one comb. I think that the slicker brush is unsuitable for Siberian and Neva Masquerade cats, and particularly for kittens. Deadly fur and mats can be easily combed out if the cat is wet and then blow them out with a hair dryer. And the slicker brush, in my opinion, traumatizes the fur of Siberians and Neva Masquerade cats.
I would like to dispel the myth that cats are afraid of water. This is completely wrong. They do like water. And warm water in particular. Another thing is that the owners being confident that a cat should be afraid of water somehow inspire them with this fear. So, they use dry shampoo excessively. But dry shampoo is the choice in force majeure circumstances. For example, you are traveling a long way, and your pet gets dirty. There is no time to wash and dry, and it's not the best time for these procedures. Dry shampoo is a rescue for such cases. But as a daily practice I consider dry shampoo as even more harmful, as it clogs the pores and makes the fur look unhealthy.
LET'S MOVE TO THE WASHING ROUTINE
You should fill the tub with warm and maybe even hot water. While the bath is filling, you should inspect the cat for dirt. If any, then you need to cover them with a special degreaser.
For example, the tail or behind the ears. Spread the degreaser lavishly. Rub it carefully but gently with your fingers, and then wait for the best effect. I personally prefer Groomer's Goop degreaser.
Take the cat by the feet and lower it with its back facing the water.
Turn the cat over so that it stands on its paws in the water and press on the shoulders so that only the head remains above the water.
Learn how to tighten the ears, since it is very undesirable to get water or shampoo and other means into the cat's ears.Get your cat properly wet.
Drain the water. As the degreaser is on, you should prepare a special soap solution from shampoo and warm water. I use a plastic bottle with a capacity of one and a half liter. I pour the Super-Cleaning and Conditioning shampoo (about 3-4 tablespoons per a medium size cat) and dilute it with warm (almost hot) water. The volume of water is about one liter. Shake until it turns into foam. I start watering the cat with the soap solution starting with the head.
Make sure you drain the tummy.
Then do some sort of squelching by scooping up the soap solution. Finally, rinse it out with a shower.
Rinsing should be done after each shampoo or other solution!
It should be enough to wash the cat with the Super-Cleaning and Conditioning solution between the cat shows.
When preparing for a cat show, I prefer other kinds of shampoos. I use almost the entire line of All Systems (USA). In case of darkening of the colorpoint, a lightening shampoo can be used. But we should bear in mind that it will not help for heavily darkened fur. All the same, darkened colorpoint is the result of genetics ... And no brand will help to whiten the body of a colorpoint animal if its fur has darkened. Please keep it in mind: Never use hair decoloration products for the sake of health and life of your pet! For those cats that are not too dark, a lightening shampoo should help. It should be applied as a concentrate on the body and stomach, without affecting the points. Then leave it for 15 minutes and don't let the cat lick it. You can use this time for trimming the claws.
Then you should also rinse and pour the cat with a solution of whitening shampoo (which color is blue) that was prepared the same way as Super-Cleaning and Conditioning solution while you applied a white lightening shampoo. This whitening shampoo helps to remove the yellow shade from the fur. The fur seems to shine after this. You can then use Crisp shampoo. It removes excessive softness of the fur while ensuring it acquired the desired structure.
Next, you can apply(or not apply) Botanical Conditioner. It depends on the structure of a cat's fur. It should be noted that some cats have fur that nothing can help. When the fur is wet, it looks like a felt boot.
This fur tends to mat. And, of course, it is better not to bleach such animals as these shampoos ensure excessive softness.
The last step is the stabilizer. As the title suggests, this product removes remnants of shampoo remarkably, heals the skin and stabilizes the structure of the hair.
In my opinion, this is like living water for the fur!
You should make sure you treat your cat with it for as long as possible, so that both the skin and the furget all the nutrients. Rinse the cat again with a shower.
And, finally, start rinsing.That is, fill the wash basin or the bath two or three times with clean warm water and carefully rinse your cat in it. Try to sort of squelch it and wrap in a towel.
Then, if you are heading for a cat show, sprinkle the cat with a 3-D volumizing spray and wrap it in a dry towel. And take your time drinking tea with your cat in a towel.
As I finish my post about washing the cats, I want to emphasize the need to use professional washing aids. You are free to choose any cosmetic manufacturer. By the way, the United States of America is the leader in the range of brands. I appeal that you never use for cats the aids intended for humans or for washing the dishes. The fact is that shampoos and other products for animals are designed taking into account the fact that they are licking themselves. Rather, people can apply them for themselves. And, by no means, vice versa!
After washing and drying with a couple of towels that help to take away excess water, you can start drying. This procedure is as important as washing. It is essential to dry a cat completely. Otherwise, fur may curl and then form mats. I only leave paws a bit wet so that the cat licked them and not the rest of the fur.
The choice of blow dyers in the market is huge! But I use professional blow dryers for regular salons. My favorite one is made by a wonderful Italian manufacturer Parlux. Their blow dryers can be equipped with a silencer. Also, many companies offer blow dryers with brushes.
It's very convenient! It brushes and dries at the same time. It is very important not to hurry with drying. Do not dry with hot air. It can provoke deadly fur for a long time. It is best to dry in a cold mode and not to blow in one direction.
If a cat is totally against drying (most of them are ok with washing, and many of them refuse to be dried), then you need enough towels. And change it every 15 minutes until the cat gets dry. You can get the fur finally dry with paper towels.
As a result of all these procedures, the cat will be satisfied with its cleanliness and light fur!
I wash my Siberian (Neva Masquerade) cats every two months on the average. This is a regular washing procedure.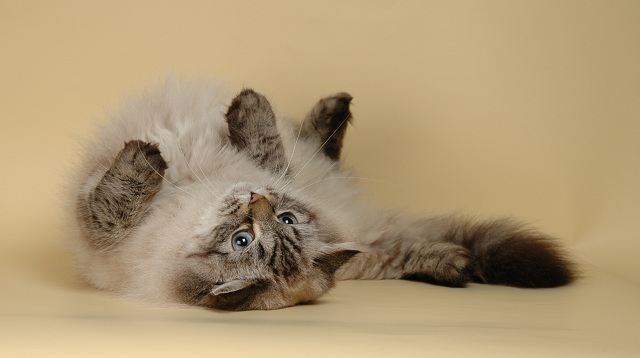 If any of my Siberian (Neva masquerade) cats goes to a cat show or a series of shows, then I arrange complete grooming procedures before each exhibition.